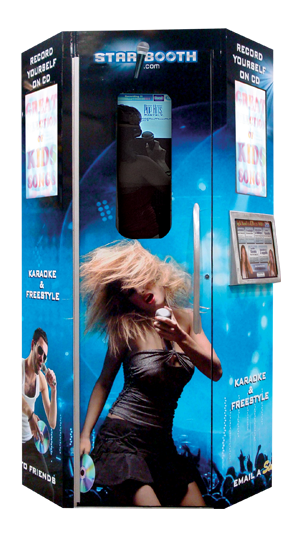 In addition to leasing or buying a StarBooth System to independently gain full potential revenue from these automated systems , the Automated Recording Studio Vending System can also be provided by Nextech Industries
AT NO COST to qualified fun centers, amusement parks, resorts, malls, various commercial locations, and amusement vending companies on a fully licensed revenue sharing basis
. Qualified locations can Host these unique systems with no initial system purchase cost, no part replacement costs, no long term commitments, and full support. These exciting, state of the art vending systems can be ideal for large fun-centers/ amusement parks or independent operators of automated systems in fixed venues and temporary events. The automation of recording services by these systems can allow for exponential expansion of business operations without the need for operating attendants, and delivers an unforgettable music experience to customers in select amusement centers/parks. Nextech Industries has contractual obligations to music publishers and karaoke manufacturers to control, monitor, report, and pay royalties for its Starbooth ® operations and its music database.
"TV talent shows craze brought out the diva in millions."
People want to Sing & Record .… Your Systems can be there! Anytime! Anywhere!
Unique, Automatic, Remote Controlled …. Exponential Expansion.
Technologically superior& unique: A 21st Century, Web-enabled, multi-media vending system with web-based network infrastructure. Customer can optionally transfer performances to an Internet social-network in addition to producing Cds. Operations, functionality and sales can all be remotely supported and monitored. The system delivers superior management control capabilities via a dedicated web-based account. Unique and exciting vending concept.
Demand: Compliments any public interest in talent-based music activities & contests. Can be readily available everywhere for consumers to use during their leisure time. The system can also be in demand as a unique entertainment service that can generate repeat customer base.
Market size: Its portability, space efficient design, can produce exponential business expansion and revenue growth of national & international proportions.
Licensing: The Automated Recording Studio is a Starbooth® system: A music publisher licensed product, remotely controlled, automated recording and Cd production station.
Revenue: Fully automates a studio production experience (no operator costs). Suitable for your own venue or commercial accounts that are based on profit sharing or vending machine hosting-fees (lower overhead). Simple/affordable/readily available studio-production alternative for consumers that can yield large hourly revenue as a vending system:
1 song Per $5 - $10 Session
2 songs per $10-$20 Session (extended session options)
MSRP. Up to 10 X $10 sessions per hour (capacity: $100 per hour/per unit)